Grumpy Mole's lofty replacement
29 June 2013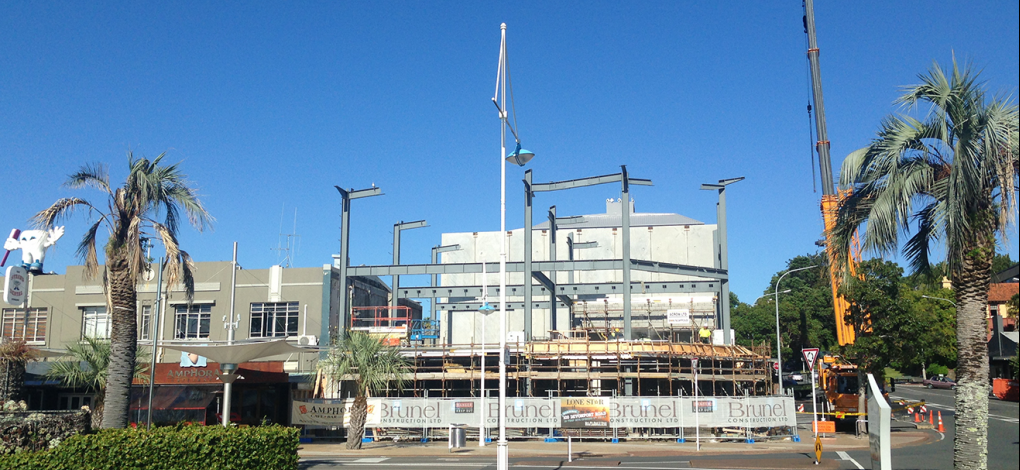 The Tauranga Hotel is being demolished to make way for a multi-million dollar development as part of a project to revitalise The Strand.
A three storey development – The Lofts – will replace the iconic hotel built in 1930 on the corner of The Strand and Harington Street.
The art deco style hotel has long been home to the Grumpy Mole Saloon on the bottom floor before it closed earlier this year.
Identified by Tauranga City Council as one of the 110 earthquake prone buildings in 2011, the development is part of JWL Investment's plans to transform the block – Willow, Harington and Hamilton Streets – into a five-level office tower, café, restaurant and retail complex with two level carparks.
Lady Rose Dairy, a company associated with Tauranga's Waddell family, who own Pak N Save on Cameron Road, obtained consent from Tauranga City Council late last year for the retail, entertainment and office development strategy.
The project will see the areas currently occupied by City Markets, Central Backpackers and the Grumpy Mole developed.
Veros Property Partners development manager Peter Williams, a spokesperson for the development, says it is pleasing to have construction underway and expects the building to be complete by next March.
"We are delighted to see some action down on The Strand for some time now. Particularly off the back of the successful development of the Phoenix.
"I think we are beginning to see The Strand being revitalised."
The Lofts will include entertainment on the ground floor along with half of the first floor with the remaining space allocated for businesses.
The Grumpy Mole Saloon is going to be replaced by a more upmarket tavern, with rumours circling it could be Lonestar Restaurant, but Peter could not comment.
The office space is yet to be filled with tenants and there is no set dollar value for the development at this stage.
"In terms of construction costs it's well in excess of a couple of million."
Peter says the only option developers had was to demolish the building and start from scratch due to earthquake related issues.
"It's one of the essential reasons for looking at a new building as opposed to a re-strengthening a very, very old building which has been guttered by fire on three separate occasions."
Priority One city centre manager Duarne Lankshear says the construction is only going to improve and enhance The Strand and will draw interest and business to what he sees as an under-used area of Tauranga.
"It is another positive sign for the CBD with new buildings under construction and it will be a good vote of confidence.
"It stimulates another new redevelopment and new building always do that as old buildings don't step up to the mark."
He sees the recent earthquake issues as a good spin off and hopes this is the start of confidence in the CBD where convenience retailing and offices can grow.
"That's a positive side out of the strengthening requirements, we see redevelopments. New buildings give reason to new tenants and new offices."