New offices bring fresh look
30 September 2011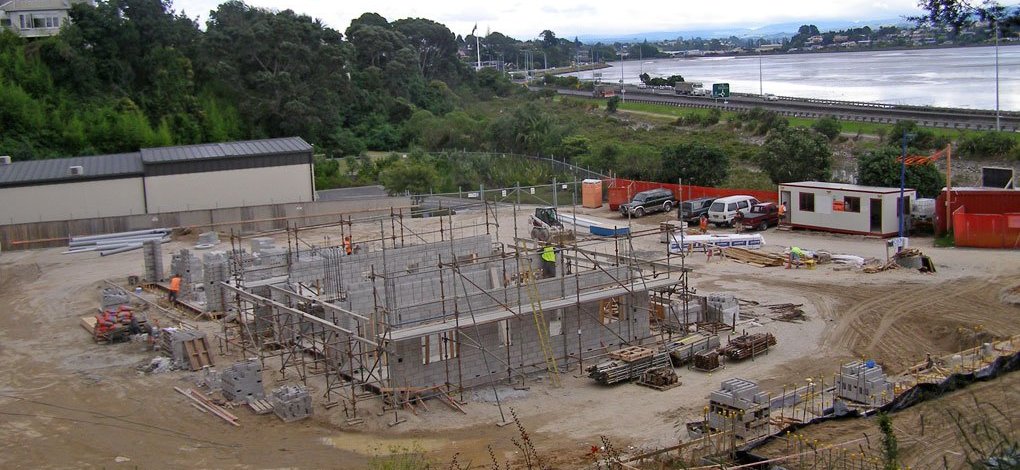 A new office complex - something different for downtown Tauranga - demands an eclectic mix of tenants.
The Cityside Business Village at the bottom of Hamilton St is shaping up that way.
Nationwide insurance broker Crombie Lockwood has moved its Bay of Plenty branch into the first building, investment and development companies JWL Investment Trust and Boffo Property have settled in across the driveway, and specialised medical practice Bay Urology will take up the fourth building, overlooking the boardwalk and Waikareao Estuary, in January.
The $7.5 million Cityside village will have seven standalone buildings, offering a total of 2000sq m of premium A-grade office space and catering for small- to medium-sized professional businesses.
Three of the two-level character buildings are finished and the one to be occupied by Bay Urology, which takes up 200sq m, will be completed by builder Marra Construction in December.
The third building, which is 300sq m, is yet to be leased and the other three will be built on demand.
The small buildings on the 4137sq m site have been designed to create the feel of an English village - similar to the apartments in the Monaco Resort, Nelson.
The exterior of the building is finished off with brick columns, classical lights, copper guttering and downpipes, tiled balconies with decorative handrails and flower boxes. A 6m-wide cobbled walkway divides the two rows of buildings, leading to a featured pergola on the southern edge.
Inside, the buildings have a luxury apartment-level specification, with showers and bathrooms downstairs and kitchens upstairs. There is floor-to-ceiling glass and the latest internet connections.
An ample staircase cuts through the middle of each building, and on the ground floor the two areas can be used for reception, meetings/boardroom and work stations. Upstairs is an open-plan working layout.
"People spend more time at work than they do at home, and we've created a high-quality working environment," said development consultant Peter Williams, of Boffo Property.
"We've put the principle of resort living into office space, and we've lifted the bar in terms of boutique offices."
Rentals in the new development have neared a Tauranga market high of $300 per sq m.
"We have genuine interest [for the unleased space] and once people arrive at the site they will appreciate that it's something different in the marketplace," said Mr Williams.
The development is being funded by JWL Investment Trust, the investment vehicle of the Waddell family. So far nearly $3 million has been spent on design and construction.
Dean Waddell operates Brookfield New World supermarket and is also developing other commercial premises in Tauranga.
Crombie Lockwood outgrew its office of seven years in the Westpac building in Devonport Rd, and shifted into its 500sq m Cityside building last month.
Its marketing manager, Daryl Hughes, said from Auckland that the decision to relocate there was a no-brainer.
"There wasn't much to choose from and the new development is a welcome bit of freshness on the commercial landscape in Tauranga. The mood of the place reflects its freshness, and for staff that's good."
The regional office services clients from the Coromandel to Opotiki, Rotorua and Taupo.
Developer JWL Investment, which has two permanent staff, moved from the Silverwood subdivision in Bethlehem and the newly established Bay Urology will house five staff at Cityside, including two nurses and a receptionist.
Consulting urologists Andre Westenberg and Liam Wilson are leaving the 20-year-old Promed House in 10th Ave, and they maybe joined by a gynaecologist.
"It's a bit unusual having a medical practice amongst business firms, but the buildings are highly specced and there's lots of space. It will be lovely," said Dr Westenberg.
Bay Urologoy will create two treatment rooms downstairs, where the doctors will perform vasectomy procedures, prostate biopsies and check clients' bladders for cancer (flexible cystoscopy).
Tauranga's four consulting urologists, including Mark Fraundorfer and Peter Gilling, who have been operating under Promed Urology, are splitting up because they are pursuing different fields of medicine, but together they will still be available for the public health service. Dr Fraundorfer is shifting to his own office in Harrington House while Dr Gilling is staying at Promed House to continue his research work.
Before JWL Investment took over, the Cityside site down the road from The Domain was pencilled in for 69 apartments, a swimming pool, spa and gymnasium, and a conference room for 70 people, at a cost of $35 million.
But the Cityside Apartments, proposed by Graham Rodgers who developed The Anchorage at Mount Maunganui, didn't get off the ground after being first promoted in 2005.
JWL Investment is turning its attention to transforming a downtown block - involving The Strand and Willow, Harrington and Hamilton Sts - into a five-level office tower, cafe, restaurant and retail precinct with two levels of carparks.
It takes in the area occupied by City Markets, Tauranga Central Backpackers, Play Nightclub and Grumpy Mole Saloon, and the developer is now in mediation with the city council over its resource consent application.
The application attracted nine submissions with four in favour, four against and one neutral.
Mr Williams said they were addressing a sunlighting issue and were working towards obtaining a consent by the end of the year.
He said construction could begin within the next two to three years. "I've learnt that you must have a consent rather than an idea to attract tenants, and we missed the timing with Cooney Lees Morgan, KPMG and Staples Rodway going to another building [on the corner of Elizabeth St and Cameron Rd].
"They could have fitted into [our building] and we are back in the process of identifying other tenants," Mr Williams said.